London, Paris, Milan, New York.
Ever since I was little I had always wanted to live in a city that was listed on a perfume bottle or on the bottom of luxury goods.
You know that little tagline under the designer's name?
London Paris Milan New York, a mantra of sorts. Out of the four, Milan always struck me as the most fashionable, the most exotic, the most daring. The Italians are a population that seems to look good in anything and as such, designers and shops have literally "set up shop" in Milan in order to dress a fashion-enthusiastic general public. Thus, the Northern Italian city has always had a place in the fashion world, serving as the home base for household names such as Prada, Gucci, and Just Cavalli, JUST to name a few. Who doesn't love a good fashion pun?
As a matter of fact, some of this metropolitan's most popular tourist attractions are not churches or museums at all but are…flagship stores.
Fashion Shopping & Tourism in Milan
Let's start with the essentials. A shopping trip to Milan is simply not complete without visiting the glittering luxury window fronts of Prada's flagship located in Galleria Vittorio Emanuele II, an establishment that has sat in the same location since 1913. If your pockets are deeper than most, it's the perfect stop to pick up an investment piece although it's just as fun pretending, so don't feel intimidated about perusing and feigning disinterest either!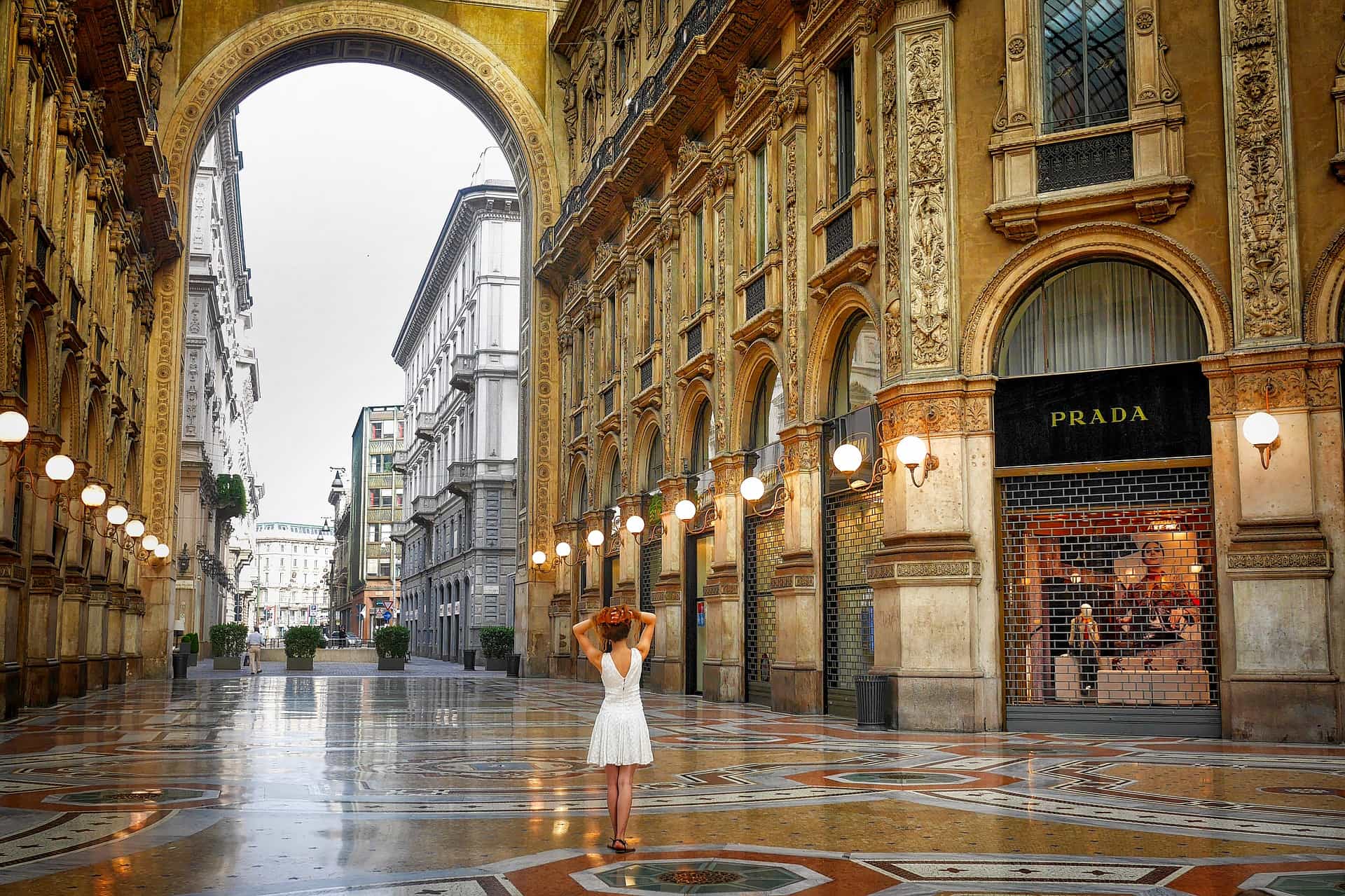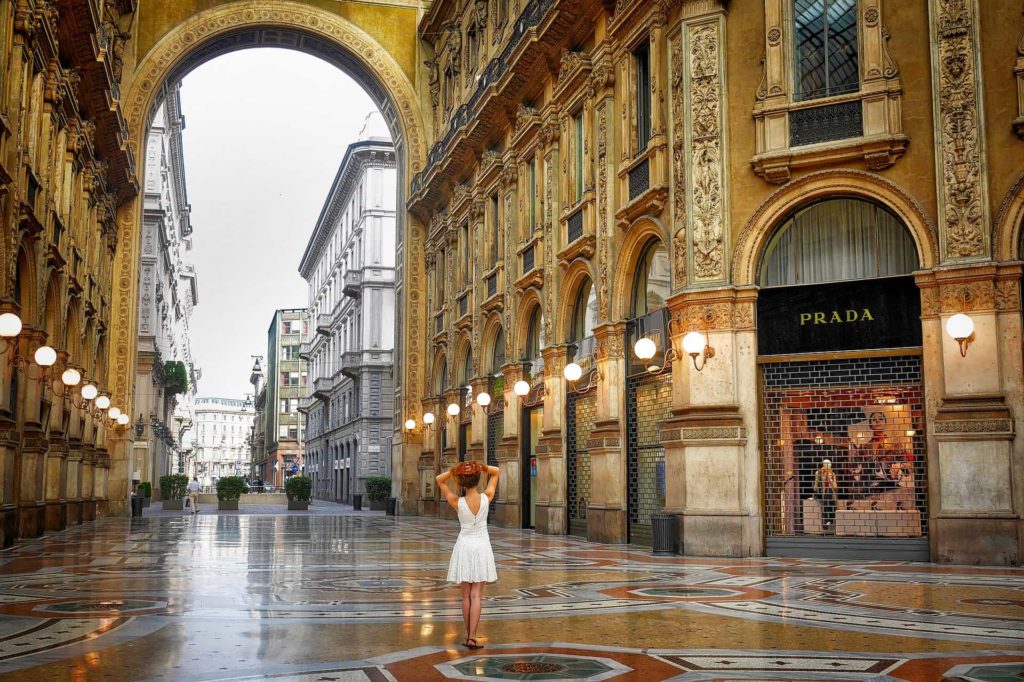 Speaking of Galleria Vittorio Emanuele II, it's an excellent starting point for any serious shopper, in the undisputed heart of the city. The Galleria dates back to the late 19th century and is actually known as one of the world's earliest and most exclusive shopping malls.
Make sure to look up as the glass ceiling and the large glass dome above the center makes an enviable Instagram shot. If you're a little short on money and need some good luck to win the lottery for your impending shopping spree, make sure to seek out the bull mosaic, it's pretty easy to find because there will be a line of people waiting to spin on their heels directly on the bull's "intimate" area!
An old Milanese legend claims doing so will bring good fortune or a return trip to the city (much like Rome's Trevi Fountain). Other notable shops in the Galleria include Louis Vuitton, Armani, Borsalino, Tod's, and Luisa Spagnoli, a favorite with the Italian house-trophy-wife set.
It's worth dedicating a paragraph to Luisa Spagnoli, and feminists the world over should make a point of purchasing this brand in homage to the strong woman that gives the stores their name. Luisa Spagnoli lived in the late 1800s to the early 1900s and was an Italian businesswoman and entrepreneur who gained international fame for her courageous creation of a woman's fashion brand and the chocolate that is known around the planet – Perugina, which makes the Valentine's Day favorites, Baci. She was extremely progressive for her time and when World War I broke out she hired primarily females to work in the Perugina chocolate factory to keep it running. After the war, she continued to advocate for women's rights in the workplace which was considered extremely avant-garde for the era, making things like maternity leave a priority. Now her brand produces classic and elegant Italian clothing that exudes femininity with its graceful lines and flattering cuts. You won't find anything overtly sexy here, but it's an ideal place to purchase a very Charlotte-Esque coordinated outfit that would look just as appropriate at Sunday mass in Southern Italy as it would at Sunday brunch on the Upper East Side.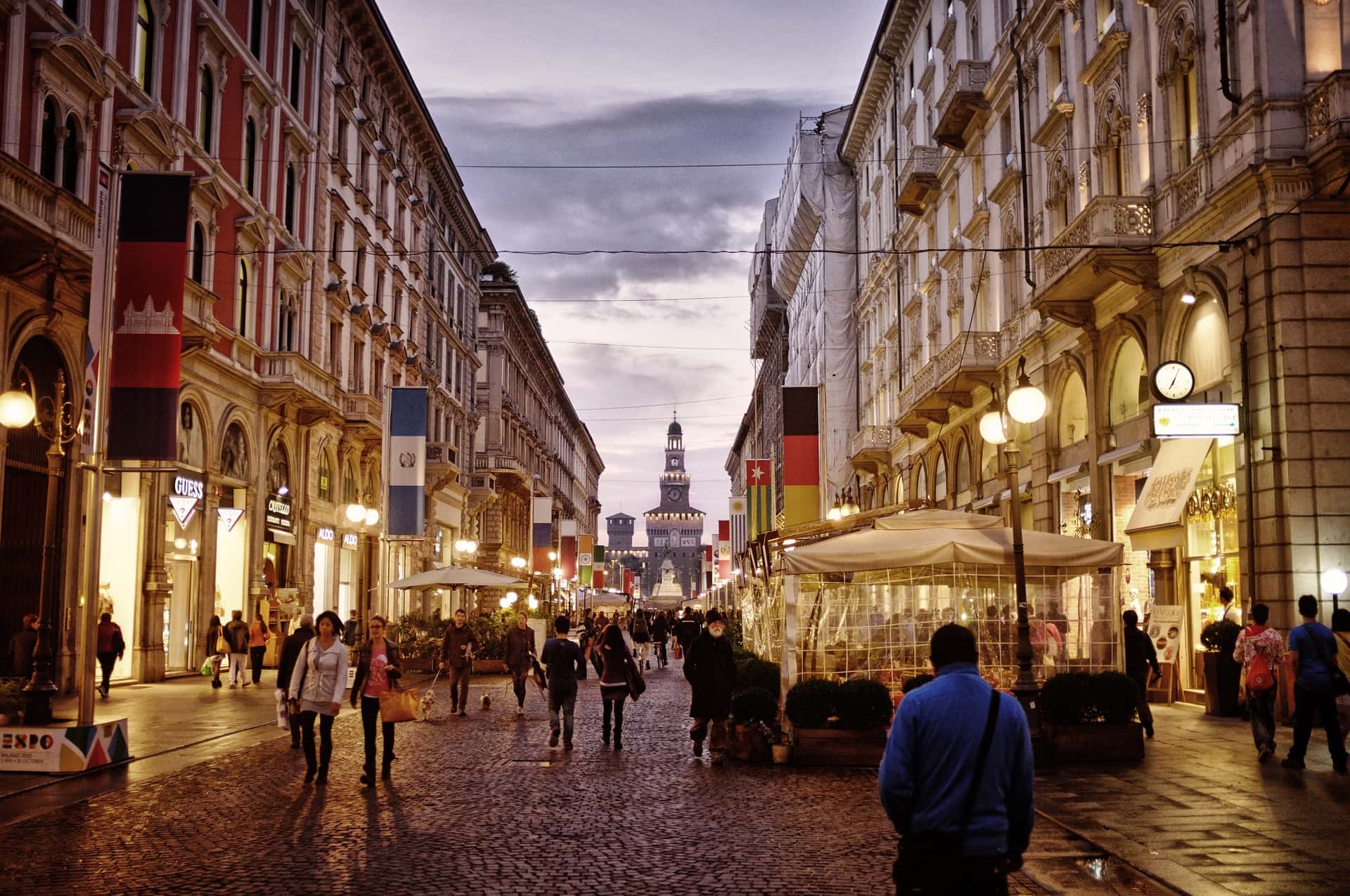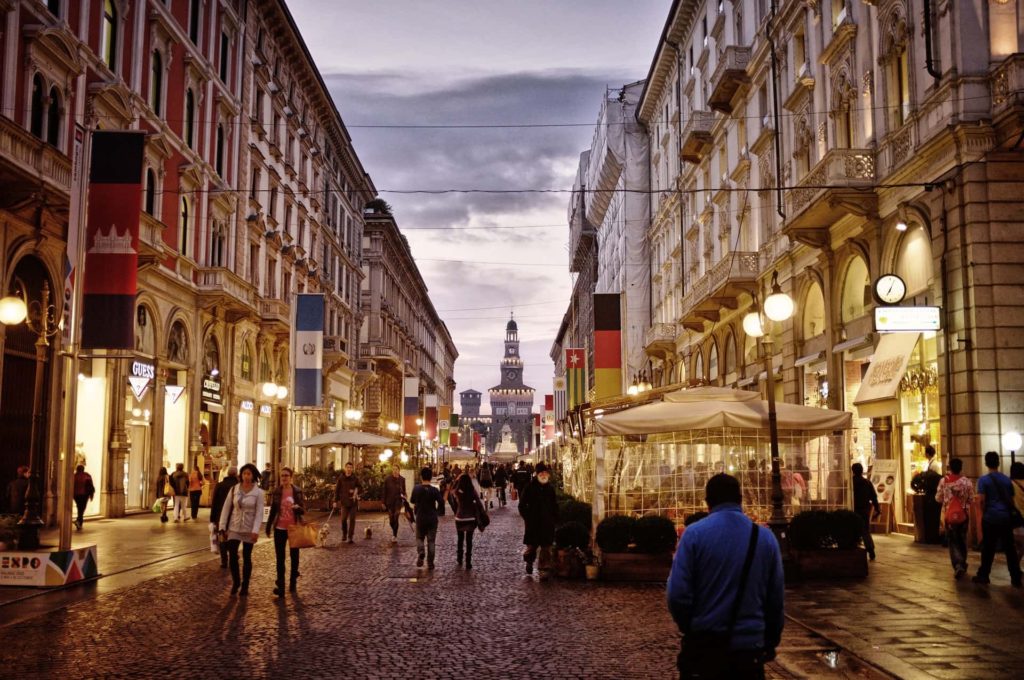 Getting back to those deeper pockets, the leading Italian brands can all be found inside the so-called Golden Rectangle, the Quadrilatero d'Oro, in Italian. You can consider the Galleria the red carpet entrance to the Golden Rectangle as you will find this area almost immediately after you've exited the former and it includes such famous shopping streets as Via Montenapoleone and Via della Spiga, Italy's version of Rodeo Drive or Fifth Avenue.
Valentino can be found on the latter and boasts a unique retail experience due to a variety of rooms which change colors and lighting and overall atmosphere in order to best match the collection being showcased. Talk about immersive shopping. For leather, Tod's is THE go-to Italian brand with its driving loafers considered a wardrobe classic. Other stores such as Gucci and Dolce and Gabbana offer DIY customization, a feature that is not available in every shop worldwide and you should definitely try to take advantage of this option should you be interested in purchasing something and adding your personal touch to it. When in Milan right?
Cheaper Shopping Options In Milan
Moving on from the exclusive to the more inclusive, the area located around the Duomo is an excellent option for more mass-market shopping. This is where you will find consumer favorites such as H&M, Zara, and many others. I suggest that you pop your head into Zara because the spectacular entrance only hides a more spectacular interior with multiple levels and a spiral architectural design that will feel like a luxury experience even if the price tags don't reflect it.
Because of the eclectic tastes of the Milanese and the eccentric mix of international buyers and locals, you will find that even the well-known chains offer a more diverse selection of products, in general. For example, you are likely to see pieces that you won't be able to find in other stores around the world so certainly keep this in mind when debating whether you have room in your suitcase! Trust me, you do. For a similar selection of shops but with a higher local vs. tourist proportion, head to Corso Buenos Aires It probably shouldn't come as a surprise but this major street in Milan has nearly 400 shops and therefore the HIGHEST concentration of clothing stores in all of Europe. It is essentially a shopaholic's paradise and is conveniently connected to the aforementioned shopping area around the Duomo as it reaches right up to Piazza San Babila, just a quick ten-minute walk from both Piazza Duomo and the Galleria.
I hope you've enjoyed this post on some of the most fashionable places to shop in Milan. As you can probably imagine, this was barely skimming the surface of what the city has to offer for the inner-shopaholic in all of us. The point is, if fashion is in your blood, Milan is the place to be.
If you'd like to take a shopping tour of Milan with a private guide, get in touch with our team of experts to see if they can help here!