5 Day Driver-Guided Tour of Ireland
The Best of Ireland in 5 Days
Day 1: Dublin - Newgrange - Enniskillen - Donegal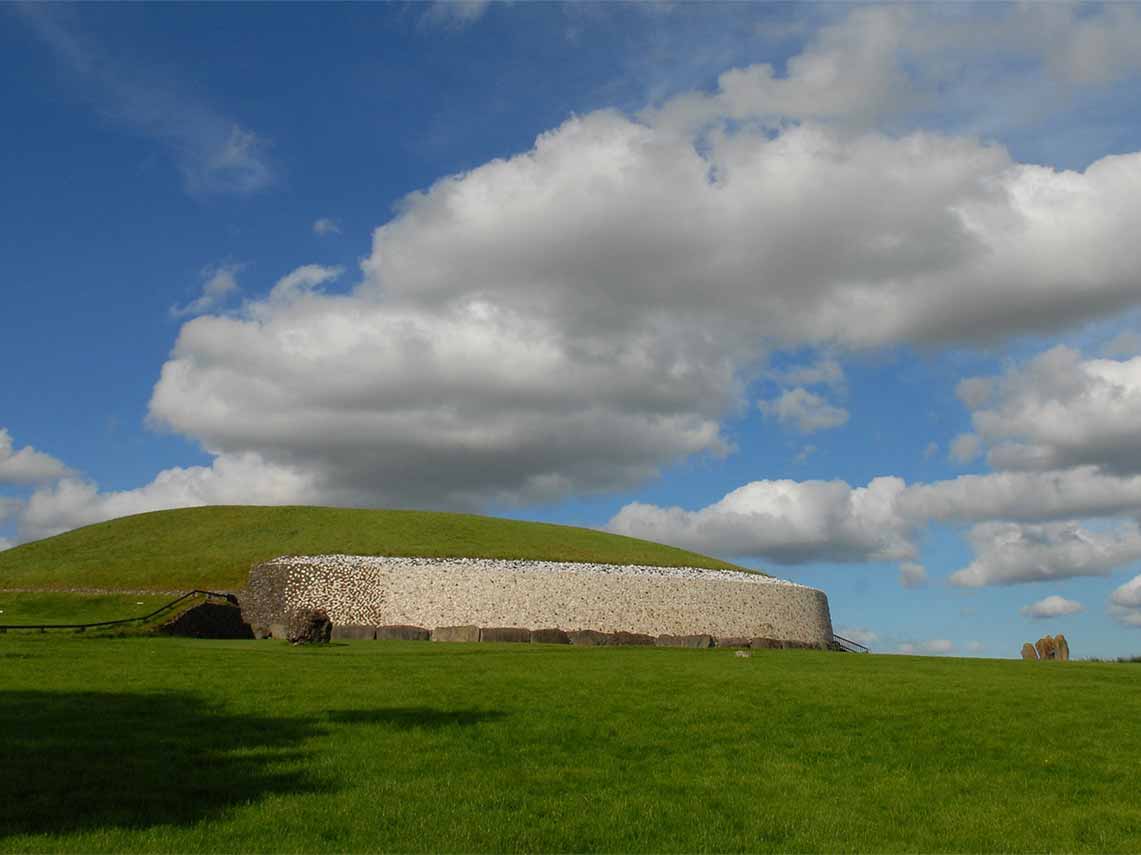 On the first day of your private tour of Ireland, we leave Dublin for Donegal, stopping in the morning to explore the incredible Newgrange.
Built during the Neolithic period, around 3200 BC, Newgrange is an exceptionally grand passage tomb built before Stonehenge and the Egyptian pyramids!
After you've explored Newgrange and learned a bit about its fascinating and vast history, your driver-guide will take you to the medieval town of Enniskillen – where we can enjoy a tour of the town and its castle.
Finally, your first day in Ireland comes to a close as your driver-guide delivers you to your accommodation for the night in Donegal.
Day 2: Donegal - Sligo - Kylemore Abbey - Connemara National Park - Galway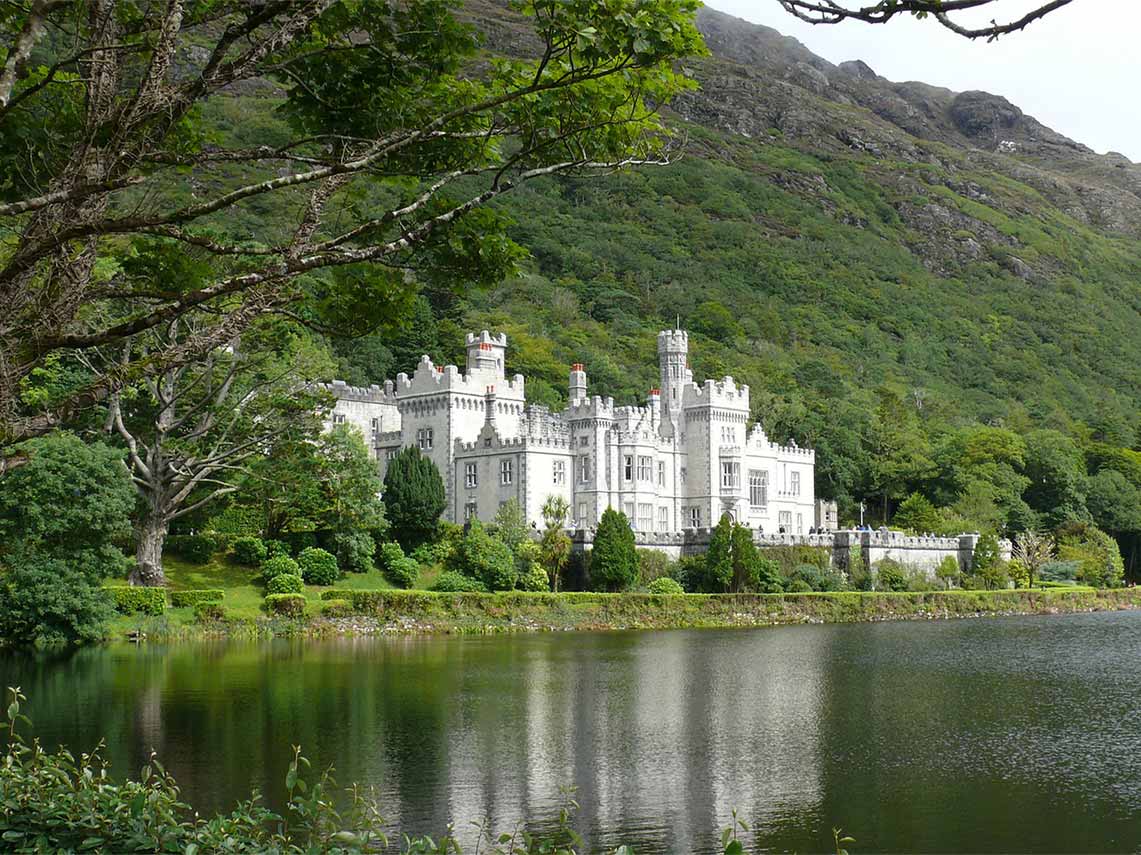 On day three of your private tour of Ireland, we'll begin to make our way down the beautiful West Coast of Ireland, from Donegal down to Galway. 
Our first stop of the day will be in the quaint town of Sligo to tour the town and its impressive Abbey. The town is known for its literary heritage and rugged countryside as well as the ruined medieval Sligo Abbey which has carved tombs and a 15th-century altar. 
Or you may choose to visit Sligo County Museum which displays memorabilia of local poet W.B. Yeats, paintings, and Stone Age artifacts as well as The Model – is a contemporary art center featuring works by 20th-century Irish artists.
We'll continue our journey through medieval Ireland with a stop at Hennigan's Heritage Center, one of the most authentic visitor sites in Ireland. Here you will see the tools used in homes and on the lands in Ireland. As you walk around the center, you will see what it was like back in 1800 to live in Ireland, thatched cottages, and tent villages.
Once you've explored Hennigan's Center and found out a little more about the Ireland of yesteryears, we'll head for a scenic drive through Connemara National Park – stopping along the way for pictures of the beautiful scenery, before touring the incredible Kylemore Abbey & Victorian Walled Garden.
Finally, after a long day touring Ireland's dramatic scenic and fascinating heritage, your driver-guide will deliver you to the door of your Galway accommodation from which you can explore the local bars and restaurants throughout the evening.
We just returned from a trip that was organized through Travel by Luxe. It was one of the best trips we ever took and it was organized brilliantly. A special thank you to Francesca, she not only helped plan the itinerary, but was available throughout the trip to assist and make any tweaks and adjustments. Overall, a great experience and highly recommend.
Day 3: Galway - Cliffs of Moher Tour - Limerick - Killarney
Your group may wish to spend the first part of the morning exploring the city of Galway a bit further before we head to the moher of all Irish natural wonders… Neither words nor pictures can fully capture the power and grace of the Cliffs of Moher.
Rising over 200 meters high and spanning 8 kilometers along the wild Atlantic coast, the Cliffs provide stunning views of the Aran Islands with the ocean crashing below. Your driver-guide will be able to inform you of all the folklore and myths that surround this incredible testament to the beauty of nature.
It's not just the setting of the cliffs of Moher that will blow you away, fans of wildlife and bird watching will want to spend hours here appreciating the Puffins, razorbills, Kittiwakes, and occasional peregrine falcons that call the area home.
Take a break and enjoy a spot of lunch in the picturesque coastal village of Doolin. Tradition is the name of the game here, so be advised that you will not find any chain restaurants or modern coffee shops in the tiny little village, but your guide will direct you to the best places to enjoy a traditional Irish meal.
Next up, we'll head to Limerick – where if we have time, you might want to see the 13th-century King John's Castle or the medieval-era St. Mary's Cathedral before you're delivered to your accommodation in Killarney for the night.
Day 4: Ring of Kerry - Killarney National Park - Dingle Bay - Sheepdog Demonstration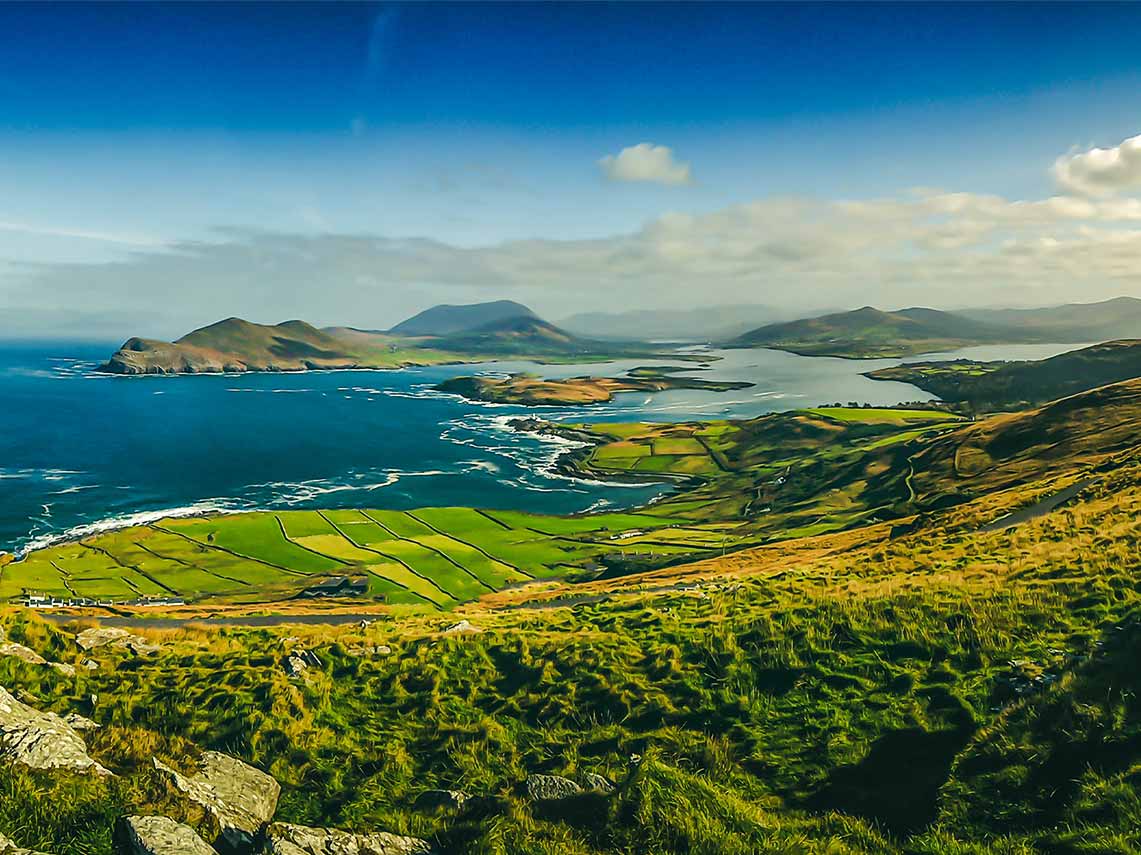 The incredible scenery of the County Kerry beckons you today and as you travel along the road better known as the Ring of Kerry. This is a circular route that forms part of The Wild Atlantic Way.
First-stop is Killorglin, en route you might opt to stop by Brendan Farris – an Irish border collie trainer – to witness his sheepdog demonstrations, which are quite an experience!
Next, we take a quick stop at Dingle Bay, before taking the mountain pass up through Molls Gap, where you will see the staggering views of Skellig Island – a key location for the Star Wars films -before your driver-guide takes you back to your accommodation in Killarney for a well-earned rest.
Throughout the evening, your driver-guide will be at hand to recommend any restaurants and traditional bars in Killarney's center you might like to explore. Killarney is a fantastic place to taste local, fresh and authentic Irish food – most notable restaurants include Rozzers Restaurant & Murphy Brownes Restaurant.
Amazing Travel Agency! Marta helped us plan our whole trip and it was absolutely amazing! We did private walking tours, private winery tours, and everything was great! Marta made the itinerary with our interests in mind and was extremely helpful! The tour guides (Viola and Jessica to name two of the many) were outstanding! Marta also helped plan the perfect engagement! We highly recommend this company and will be using them again!
Day 5: Killarney - Blarney Castle - Kilkenny - Dublin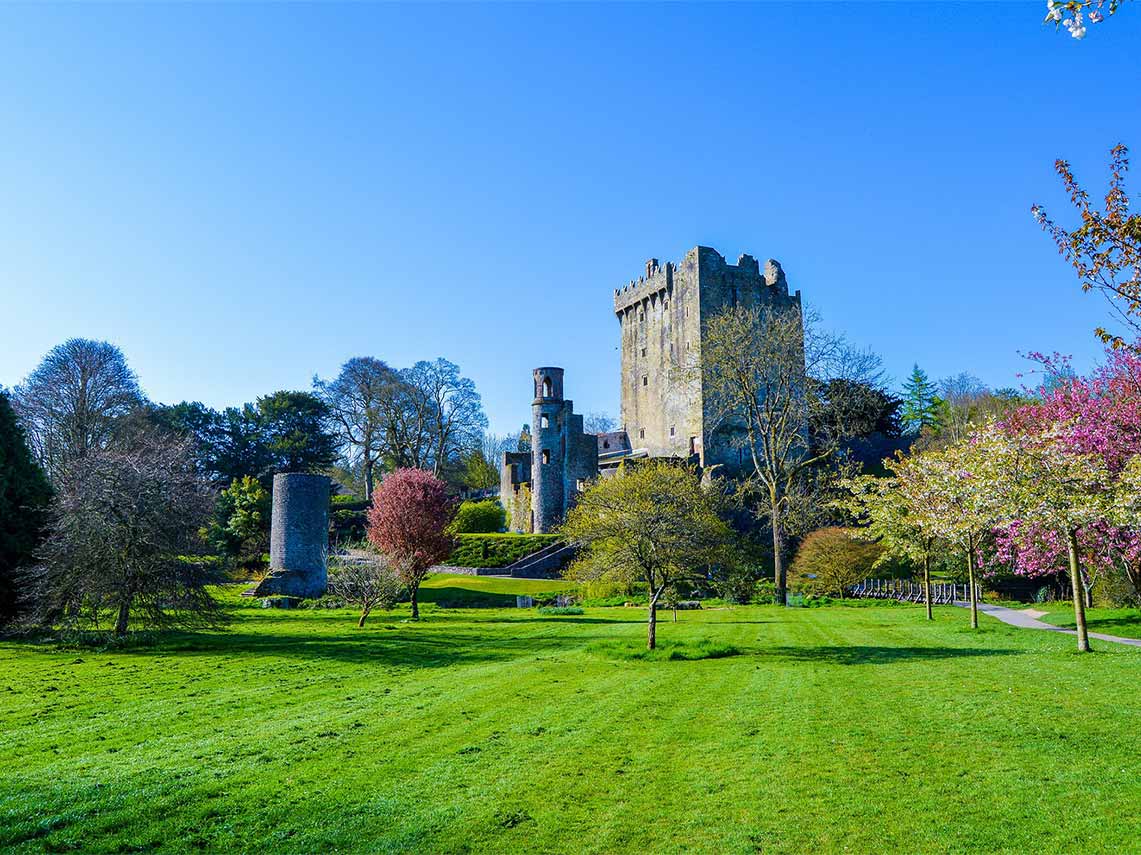 On the final day of your tour of Ireland, we'll leave Killarney in the morning and head to the famous Blarney Castle in County Cork – an early 13th Century castle and home to the famous 'Blarney Stone'.
Legend has it that those brave enough to lean over the edge and kiss the stone will be granted the gift of eloquence and verbal dexterity. I'm sure you'll agree that would be a better souvenir of your trip than anything you could find in a gift shop!
With so much more to discover, we set off from Blarney Castle to the undisputed heart and soul of Viking and Medieval Ireland, Kilkenny. Here you will have the chance to visit:
Kilkenny Castle: Built in 1195, the castle was featured in Oliver Cromwell's re-conquest of Ireland in 1650 and was besieged during the Irish Civil War in 1922.
St. Mary's Medieval Mile Museum: bringing to life Kilkenny's history as a medieval city, this museum displays Kilkenny's civic treasures and replicas of some of the High Crosses of Ossory illustrate the local Gaelic monastic heritage and the ancient city's historic role in Ireland.
Finally, as all good things must unfortunately at some stage come to an end, your driver-guide will deliver you to the airport or your accommodation in Dublin where your tour with us will come to a close… until next time!
Request Your Custom Tour Itinerary Here
Our experts understand that no two clients are the same, so whether you want to personalize one of our private tours, or have us design an itinerary from scratch for you, fill out our inquiry form below to get started:
Rated 5-Star on Google & TripAdvisor
Use this company! An excellent experience! As a seasoned traveler and very detailed oriented customer, working with both Irene's was a joy and in the end produced a wonderful experience. Their personal touch on every detail and their communication was extraordinary.
Recommend them highly! These folks are very professional, and flexible in creating a custom tours, and handling last-minute changes. The guides were knowledgeable and friendly. Recommend them highly!
A Flawless Trip! Travel by Luxe assisted us in planning an excellent trip to Genoa and the Italian Riviera including Cinque Terre. The drivers they provided were courteous, efficient, safe and their vehicles were immaculate and comfortable.
Hands down the best travel company! Every detail was taken care of! All questions were answered. Every guide was knowledgeable, flexible, and kind! In a situation when travel can be stressful, every individual was fantastic.
A Great Experience! We just returned from a trip that was organized through Travel by Luxe. It was one of the best trips we ever took and it was organized brilliantly. A special thank you to Francesca, a great experience and highly recommend.
Amazing Italy Awesome trip! Graziano arranged everything perfectly and was very patient with our planning process and changes. Private tours and transfer worth the extra $$$. Will use again.
Qualified Guides.
Certified Excellence.
Other Example Ireland Tour Itineraries You Might Like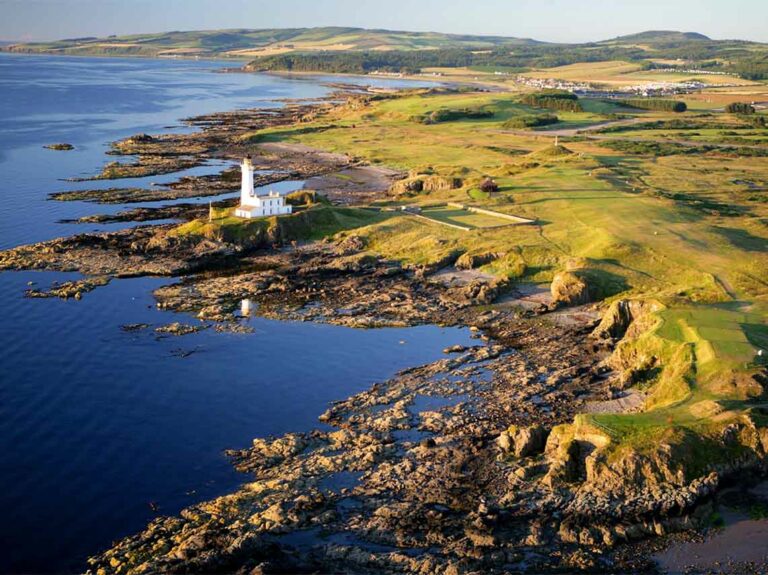 Play some of the greatest and oldest golf courses on the planet in this incredible 2-week private tour of Scotland & Ireland's beautiful game
Most popular tour destinations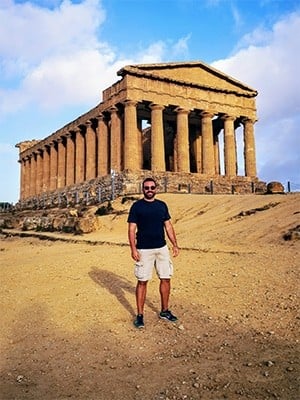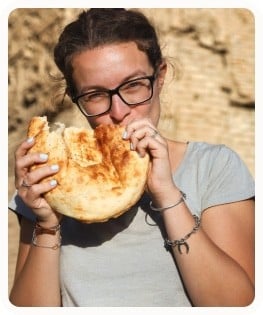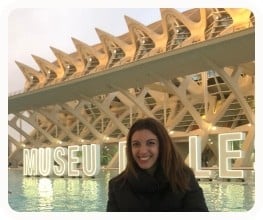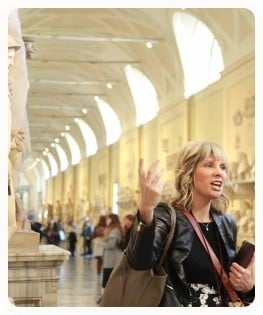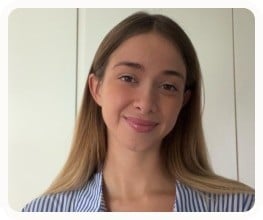 Our ethos is centered around creating the ultimate vacation experience for our guests, that is why we have specialist tour planners across Europe ready to provide you with the low down on the best times to arrive, local specialties and events, and armed with a Rolodex of the finest English speaking private guides in the country.
Get in touch with your local expert today by completing the contact form below and they will get started tailoring any of our tour experiences exactly to your tastes and requirements… all on a completely complimentary basis!